Comparative testicular transcriptome of wild type and globozoospermic Dpy19l2 knock out mice
Background
Globozoospermia is a male infertility phenotype characterized by the presence in the ejaculate of near 100% acrosomeless round-headed spermatozoa with normal chromosomal content. Following intracytoplasmic sperm injection (ICSI) these spermatozoa give a poor fertilization rate and embryonic development. We showed previously that most patients have a 200 kb homozygous deletion, which includes DPY19L2 whole coding sequence. Furthermore we showed that the DPY19L2 protein is located in the inner nuclear membrane of spermatids during spermiogenesis and that it is necessary to anchor the acrosome to the nucleus thus performing a function similar to that realized by Sun proteins within the LINC-complex (Linker of Nucleoskeleton and Cytoskeleton). SUN1 was described to be necessary for gametogenesis and was shown to interact with the telomeres. It is therefore possible that Dpy19l2 could also interact, directly or indirectly, with the DNA and modulate gene expression during spermatogenesis.
In this study, we compared the transcriptome of testes from Dpy19l2 knock out and wild type mice in order to identify a potential deregulation of transcripts that could explain the poor fertilization potential of Dpy19l2 mutated spermatozoa.
Methods
RNA was extracted from testes from DPY19L2 knock out and wild type mice. The transcriptome was carried out using GeneChip® Mouse Exon 1.0 ST Arrays. The biological processes and molecular functions of the differentially regulated genes were analyzed with the PANTHER software.
Results
A total of 76 genes were deregulated, 70 were up-regulated and 6 (including Dpy19l2) were down-regulated. These genes were found to be involved in DNA/RNA binding, structural organization, transport and catalytic activity.
Conclusions
We describe that an important number of genes are differentially expressed in Dpy19l2 mice. This work could help improving our understanding of Dpy19l2 functions and lead to a better comprehension of the molecular mechanism involved in spermatogenesis.
Fichier principal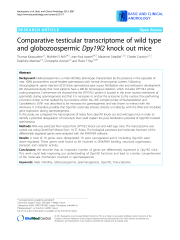 2051-4190-23-7.pdf (692.34 Ko)
Télécharger le fichier
2051-4190-23-7-S1.DOC (27 Ko)
Télécharger le fichier
2051-4190-23-7-S2.XLS (66.5 Ko)
Télécharger le fichier
2051-4190-23-7-S3.XLS (60.5 Ko)
Télécharger le fichier
2051-4190-23-7.xml (60.96 Ko)
Télécharger le fichier
Origin : Publisher files allowed on an open archive