How did lomustine become standard of care in recurrent glioblastoma?
How did lomustine become standard of care in recurrent glioblastoma?
Glioblastomas are the most common malignant primary intrinsic brain tumors. Their incidence increases with age, and males are more often affected. First-line management includes maximum safe surgical resection followed by involved-field radiotherapy plus concomitant and six cycles of maintenance temozolomide chemotherapy. Standards of care at recurrence are much less well defined. Minorities of patients are offered second surgery or re-irradiation, but data on a positive impact on survival from randomized trials are lacking. The majority of patients who are eligible for salvage therapy receive systemic treatment, mostly with nitrosourea-based regimens or, depending on availability, bevacizumab alone or in various combinations. In clinical trials, lomustine alone has been increasingly used as a control arm, assigning this drug a standard-of-care position in the setting of recurrent glioblastoma. Here we review the activity of lomustine in the treatment of diffuse gliomas of adulthood in various settings. The most compelling data for lomustine stem from three randomized trials when lomustine was combined with procarbazine and vincristine as the PCV regimen in the newly diagnosed setting together with radiotherapy; improved survival with PCV was restricted to patients with isocitrate dehydrogenase-mutant tumors. No other agent with the possible exception of regorafenib has shown superior activity to lomustine in recurrent glioblastoma, but activity is largely restricted to patients with tumors with O(6)-methylguanine DNA methyltransferase (MGMT) promoter methylation. Hematological toxicity, notably thrombocytopenia often limits adequate exposure.
Fichier principal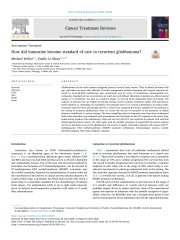 2020-05-04-PIIS0305737220300670.pdf (426.29 Ko)
Télécharger le fichier
Origin : Files produced by the author(s)