Relation mutuelle entre Tau et signalisation centrale de l'insuline
Alzheimer's disease (AD) is a neurodegenerative disease primarily characterized by cognitive deficits and neuropathological lesions such as Tau aggregates and amyloid plaques, but also associated with metabolic and neuroendocrine abnormalities, such as impairment of cerebral insulin. However, the origin of these symptoms and their relationship to pathology and cognitive disorders remain poorly understood. Insulin is a hormone involved in the control of peripheral and central energy homeostasis, and insulin-resistant state has been linked to increased risk of dementia. It is now well established that brain insulin resistance can exacerbate Tau lesions. Conversely, recent data indicate that Tau protein can modulate insulin signalling in the brain, creating a vicious circle precipitating the pathological AD. This review aims to highlight our current understanding of the role of insulin in the brain and its relationship with Tau protein in the context of AD and Tauopathies.
La maladie d'Alzheimer (MA) est une maladie neurodégénérative caractérisée par des déficits cognitifs et des lésions neuropathologiques (agrégats de Tau et plaques amyloïdes), mais également par des troubles métaboliques et neuroendocriniens. Les mécanismes à l'origine de ces processus physiopathologiques demeurent mal compris mais pourraient provenir du développement d'une insulino-résistance centrale. L'altération de l'action de l'insuline dans le cerveau des patients atteints de MA a été décrite comme facteur aggravant les lésions Tau et amyloïdes ainsi que les troubles cognitifs. L'origine de cette résistance centrale est bien moins comprise mais ferait intervenir la protéine Tau, suggérant l'existence d'un cercle vicieux contribuant à l'apparition et à la progression des signes cliniques. La présente revue vise à faire le point sur notre compréhension actuelle du rôle de l'insuline dans le cerveau et de sa relation avec la protéine Tau dans la MA et les Tauopathies.
Fichier principal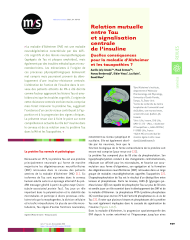 msc180161.pdf (630.13 Ko)
Télécharger le fichier
Origin : Publisher files allowed on an open archive