Relationship between humoral response against hepatitis C virus and disease overcome
Conclusion
Humoral response against hepatitis C virus linear epitopes is partly modified according to the disease state. This study highlights the importance of considering relative quantities of antibodies with different specificities rather than the amount of each antibody.
Hepatitis C virus infection leads to liver disease whose severity can range from mild to serious lifelong illness. However the parameters involved in the evolution of the disease are still unknown. Among other factors, the virus-elicited antibody profile is suspected to play a role in the outcome of the disease. Analysis of the relationship between anti-virus antibodies and disease state requires the analysis of a large number of serums from patients (hepatitis C virus+) and of epitopes from the viral proteins. Such a study would benefit from microarray-based screening systems that are appropriate for high-throughput assays.
We used a method combining peptide chips and surface plasmon resonance imaging previously shown to be suitable for analyzing complex mediums and detecting peptide-protein interactions. 56 peptides covering the entire viral proteome were grafted on chips and their interaction with antibodies present in the 68 injected serums from infected and non-infected donors was measured. Statistical analyses were conducted to determine a possible relationship between antibodies (specificity and amount) and disease states.
A good discrimination between infected and non-infected donors validated our approach, and several correlations between antibodies profiles and clinical parameters have been identified. In particular, we demonstrated that ratios between particular antibodies levels allow for accurate discrimination of patients according to their pathologic states.
Fichier principal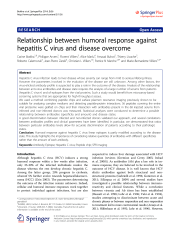 2193-1801-3-56.pdf (463.18 Ko)
Télécharger le fichier
2193-1801-3-56.xml (97.89 Ko)
Télécharger le fichier
Origin : Publisher files allowed on an open archive