A twenty-year follow-up of canine leishmaniosis in three military kennels in southeastern France
Background
Canine leishmaniosis (CanL) is enzootic in southeastern France, and military working dogs (MWD) posted in this area are highly exposed. To assess the efficiency of prevention, we performed a serological and clinical follow-up of 80 MWD in the Var and Corsica regions during the 20-year period from 1993 to 2012. The systematic and specific prevention of CanL using a deltamethrin-impregnated collar (DMC) was implemented in 2002.
Findings
Out of 80 dogs tested annually, the cumulative serological and clinical incidence was 42.5% (34/80) and 21.2% (17/80) respectively, during the first period, and these numbers decreased to 6.2% (5/80) and 2.5% (2/80) during the second period (p < 0.00001). Considering the incidence of serology since 2002, the CanL risk has been reduced by 85.2% and the level of protection of MWD reached 93.8%. Dogs without collars had a 10.4-fold greater chance of becoming infected than protected dogs. Although other ecological factors might have influenced the epidemiology of CanL, DMC usage was the main factor affecting dog exposure to CanL.
Conclusions
The prevention strategy based on DMC proved highly efficient in our population of MWD, as it effectively controlled the disease. This result is also of interest to public health, as dogs are reservoirs for Leishmania infantum.
Fichier principal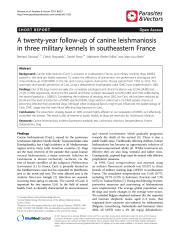 1756-3305-6-323.pdf (198.44 Ko)
Télécharger le fichier
1756-3305-6-323.xml (43.5 Ko)
Télécharger le fichier
Origin : Publisher files allowed on an open archive