Defect in recruiting effector memory CD8+ T-cells in malignant pleural effusions compared to normal pleural fluid
Background
Malignant pleural effusions (MPE) are a common and fatal complication in cancers including lung or breast cancers, or malignant pleural mesothelioma (MPM). MPE animal models and immunotherapy trials in MPM patients previously suggested defects of the cellular immunity in MPE. However only few observational studies of the immune response were done in MPM patients, using questionable control groups (transudate...).
Methods
We compared T cell populations evaluated by flow cytometry from blood and pleural effusion of untreated patients with MPM (n = 58), pleural metastasis of adenocarcinoma (n = 30) or with benign pleural lesions associated with asbestos exposure (n = 23). Blood and pleural fluid were also obtained from healthy subjects, providing normal values for T cell populations.
Results
Blood CD4+ or CD8+ T cells percentages were similar in all groups of patients or healthy subjects. Whereas pleural fluid from healthy controls contained mainly CD8+ T cells, benign or malignant pleural effusions included mainly CD4+ T cells. Effector memory T cells were the main T cell subpopulation in pleural fluid from healthy subjects. In contrast, there was a striking and selective recruitment of central memory CD4+ T cells in MPE, but not of effector cells CD8+ T cells or NK cells in the pleural fluid as one would expect in order to obtain an efficient immune response.
Conclusions
Comparing for the first time MPE to pleural fluid from healthy subjects, we found a local defect in recruiting effector CD8+ T cells, which may be involved in the escape of tumor cells from immune response. Further studies are needed to characterize which subtypes of effector CD8+ T cells are involved, opening prospects for cell therapy in MPE and MPM.
Fichier principal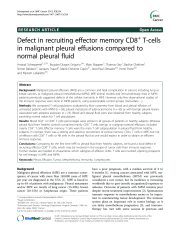 1471-2407-13-324.pdf (611.47 Ko)
Télécharger le fichier
1471-2407-13-324.xml (78.02 Ko)
Télécharger le fichier
Origin : Publisher files allowed on an open archive