Plasmodium vivax and Plasmodium falciparum infections in the Republic of Djibouti: evaluation of their prevalence and potential determinants
Background
Formerly known as a hypoendemic malaria country, the Republic of Djibouti declared the goal of pre-eliminating malaria in 2006. The aim of the present study was to evaluate the prevalence of Plasmodium falciparum, Plasmodium vivax and mixed infections in the Djiboutian population by using serological tools and to identify potential determinants of the disease and hotspots of malaria transmission within the country.
Methods
The prevalence of P. falciparum and P. vivax within the districts of the capital city and the rest of the Republic of Djibouti were assessed using 13 and 2 serological markers, respectively. The relationship between the immune humeral response to P. falciparum and P. vivax and variables such as age, gender, wealth status, urbanism, educational level, distance to rivers/lakes, living area, having fever in the last month, and staying in a malaria-endemic country more than one year was estimated and analysed by questionnaires administered to 1910 Djiboutians. Multivariate ordinal logistic regression models of the immune humeral response were obtained for P. falciparum and P. vivax.
Results
The P. falciparum and P. vivax seroprevalence rates were 31.5%, CI95% [29.4-33.7] and 17.5%, CI95% [15.8-19.3], respectively. Protective effects against P. falciparum and P. vivax were female gender, educational level, and never having visited a malaria-endemic area for more than one year. For P. falciparum only, a protective effect was observed for not having a fever in the last month, living more than 1.5 km away from lakes and rivers, and younger ages.
Conclusions
This is the first study that assessed the seroprevalence of P. vivax in the Republic of Djibouti. It is necessary to improve knowledge of this pathogen in order to create an effective elimination programme. As supported by recent observations on the subject, the Republic of Djibouti has probably demonstrated a real decrease in the transmission of P. falciparum in the past seven years, which should encourage authorities to improve efforts toward elimination.
Fichier principal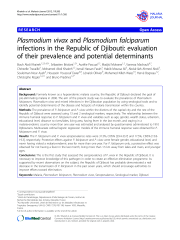 1475-2875-11-395.pdf (1.09 Mo)
Télécharger le fichier
1475-2875-11-395-S1.DOC (71 Ko)
Télécharger le fichier
1475-2875-11-395-S10.TIFF (143.49 Ko)
Télécharger le fichier
1475-2875-11-395-S11.TIFF (128.19 Ko)
Télécharger le fichier
1475-2875-11-395-S2.DOC (86 Ko)
Télécharger le fichier
1475-2875-11-395-S3.DOC (70 Ko)
Télécharger le fichier
1475-2875-11-395-S4.DOC (82 Ko)
Télécharger le fichier
1475-2875-11-395-S5.DOC (72 Ko)
Télécharger le fichier
1475-2875-11-395-S6.DOC (82.5 Ko)
Télécharger le fichier
1475-2875-11-395-S7.DOC (189.5 Ko)
Télécharger le fichier
1475-2875-11-395-S8.DOC (201 Ko)
Télécharger le fichier
1475-2875-11-395-S9.DOC (132 Ko)
Télécharger le fichier
1475-2875-11-395.xml (121.4 Ko)
Télécharger le fichier
Origin : Publisher files allowed on an open archive