Chronic renoprotective effect of pulsatile perfusion machine RM3 and IGL-1 solution in a preclinical kidney transplantation model
Background
Machine perfusion (MP) of kidney graft provides benefits against preservation injury, however decreased graft quality requires optimization of the method. We examined the chronic benefits of MP on kidney grafts and the potential improvements provided by IGL-1 solution.
Method
We used an established autotransplantation pig kidney model to study the effects of MP against the deleterious effects of warm ischemia (WI: 60 minutes) followed by 22 hours of cold ischemia in MP or static cold storage (CS) followed by autotransplantation. MPS and IGL-1 solutions were compared.
Results
Animal survival was higher in MPS-MP and both IGL groups. Creatinine measurement did not discriminate between the groups, however MPS-MP and both IGL groups showed decreased proteinuria. Chronic fibrosis level was equivalent between the groups. RTqPCR and immunohistofluorescent evaluation showed that MP and IGL-1 provided some protection against epithelial to mesenchymal transition and chronic lesions. IGL-1 was protective with both MP and CS, particularly against chronic inflammation, with only small differences between the groups.
Conclusion
IGL-1 used in either machine or static preservation offers similar levels of protection than standard MP. The compatibility of IGL-1 with both machine perfusion and static storage could represent an advantage for clinical teams when choosing the correct solution to use for multi-organ collection. The path towards improving machine perfusion, and organ quality, may involve the optimization of the solution and the correct use of colloids.
Fichier principal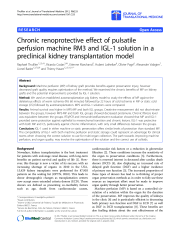 1479-5876-10-233.pdf (3.14 Mo)
Télécharger le fichier
1479-5876-10-233-S1.DOC (46.5 Ko)
Télécharger le fichier
1479-5876-10-233.xml (66.88 Ko)
Télécharger le fichier
Origin : Publisher files allowed on an open archive