Is there an optimal minimally invasive technique for left anterior descending coronary artery bypass?
Background
The aim of this retrospective study was to evaluate the clinical outcome of three different minimally invasive surgical techniques for left anterior descending (LAD) coronary artery bypass grafting (CABG): Port-Access surgery (PA-CABG), minimally invasive direct CABG (MIDCAB) and off-pump totally endoscopic CABG (TECAB).
Methods
Over a decade, 160 eligible patients for elective LAD bypass were referred to one of the three techniques: 48 PA-CABG, 53 MIDCAB and 59 TECAB. In MIDCAB group, Euroscore was higher and target vessel quality was worse. In TECAB group, early patency was systematically evaluated using coronary CT scan. During follow-up (mean 2.7 ± 0.1 years, cumulated 438 years) symptom-based angiography was performed.
Results
There was no conversion from off-pump to on-pump procedure or to sternotomy approach. In TECAB group, there was one hospital cardiac death (1.7%), reoperation for bleeding was higher (8.5% vs 3.7% in MIDCAB and 2% in PA-CABG) and 3-month LAD reintervention was significantly higher (10% vs 1.8% in MIDCAB and 0% in PA-CABG). There was no difference between MIDCAB and PA-CABG groups. During follow-up, symptom-based angiography (n = 12) demonstrated a good patency of LAD bypass in all groups and 4 patients underwent a no LAD reintervention. At 3 years, there was no difference in survival; 3-year angina-free survival and reintervention-free survival were significantly lower in TECAB group (TECAB, 85 ± 12%, 88 ± 8%; MIDCAB, 100%, 98 ± 5%; PA-CABG, 94 ± 8%, 100%; respectively).
Conclusions
Our study confirmed that minimally invasive LAD grafting was safe and effective. TECAB is associated with a higher rate of early bypass failure and reintervention. MIDCAB is still the most reliable surgical technique for isolated LAD grafting and the least cost effective.
Fichier principal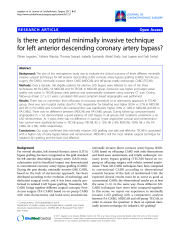 1749-8090-6-37.pdf (350.87 Ko)
Télécharger le fichier
1749-8090-6-37.xml (47.03 Ko)
Télécharger le fichier
Origin : Publisher files allowed on an open archive