Expression and localization of aromatase during fetal mouse testis development
Background
Both androgens and estrogens are necessary to ensure proper testis development and function. Studies on endocrine disruptors have highlighted the importance of maintaining the balance between androgens and estrogens during fetal development, when testis is highly sensitive to environmental disturbances. This balance is regulated mainly through an enzymatic cascade that converts irreversibly androgens into estrogens. The most important and regulated component of this cascade is its terminal enzyme: the cytochrome p450 19A1 (aromatase hereafter). This study was conducted to improve our knowledge about its expression during mouse testis development.
Findings
By RT-PCR and western blotting, we show that full-length aromatase is expressed as early as 12.5 day post-coitum (dpc) with maximal expression at 17.5 dpc. Two additional truncated transcripts were also detected by RT-PCR. Immunostaining of fetal testis sections and of gonocyte-enriched cell cultures revealed that aromatase is strongly expressed in fetal Leydig cells and at variable levels in gonocytes. Conversely, it was not detected in Sertoli cells.
Conclusions
This study shows for the first time that i) aromatase is expressed from the early stages of fetal testis development, ii) it is expressed in mouse gonocytes suggesting that fetal germ cells exert an endocrine function in this species and that the ratio between estrogens and androgens may be higher inside gonocytes than in the interstitial fluid. Furthermore, we emphasized a species-specific cell localization. Indeed, previous works found that in the rat aromatase is expressed both in Sertoli and Leydig cells. We propose to take into account this species difference as a new concept to better understand the changes in susceptibility to Endocrine Disruptors from one species to another.
Fichier principal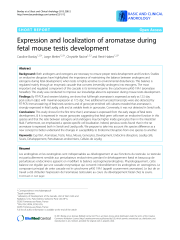 2051-4190-23-12.pdf (517.63 Ko)
Télécharger le fichier
2051-4190-23-12.xml (42.45 Ko)
Télécharger le fichier
Origin : Publisher files allowed on an open archive