The « proxemics event » : study of peak hours pedestrian traffic relationships in Delhi, Los Angeles, Paris and Tokyo
"L'événement proxémique" : étude des relations de circulation entre piétons aux heures de pointe à Delhi, Los Angeles, Paris et Tokyo.
In a context of traf8ic networks saturation related to urbanisation acceleration, thisresearch is aimed at contributing to the scienti8ic debate on this issue by building a model to describe dynamic pedestrians' physical distances regulation behaviours in public places.The urban dimension of Edward T. Hall's theory of proxemics is taken as an initial inspiration. This author argues that a correlation exists between the organisation of space at the macro level of Society and the micro level of individual behaviours. It leads him to a synthetic distinction between 'contact cultures' and 'non-contact cultures'. The former tends to prefer smaller distances at all scales of space organisation compared to the latter.This hypothesis is considered seriously in the research. Nonetheless, Hall's macroculturalist anthropological area distinction (e.g.: the 'Arab World' = 'contact culture') isnot relevant anymore in the urban globalization era. Therefore, a new 'micromacro'theory, based on 4 macro orientations expected to have an influence on micro behaviours,is proposed: equality between urban citizens, individualisation, relative urbanity and urban planning regulation.Two other scalar correlation theories of spatial relations description are also tested. One,called 'micromeso', is based on Roger Barker's behaviour setting theory. It states thatproxemical behaviours are correlated with intermediate units related to a specific placeand time such as 'the subway at peak hours'. The other theory, called 'micro', states thatany form of scalar correlation is an ecological fallacy. Accordingly, the description processhas to remain at the very level of physical distance relations between individuals.These different theories are tested empirically in Delhi, Los Angeles, Paris and Tokyowhich all answer differently to the macro orientations of the micromacro theory. Behaviours inside the metro and outside of it are observed (micromeso theory). In each condition, similar levels of spatial competition for places are taken into consideration (micro theory).The results lead to conclude that traffic relations between pedestrians are best describedwhen considered cumulatively as micro > micromeso > micromacro by order of efficiency. Eventually, I defend the thesis that urban dwellers should debate of traffic relationshipsmicro conditions improvements rather than focusing on micromacro and micromeso explanations of the networks breakdowns which can be found for instance in the competition promoted between individuals on civil behaviours.
Dans un contexte de saturation des réseaux de circulation liée à l'accélération de l'urbanisation, le but de cette recherche est d'alimenter le débat scienti8ique sur les réponses à apporter à cet enjeu social par l'étude des comportements de régulation des distances physiques entre les piétons dans les lieux publics. La composante urbaine de la théorie de la proxémie d'Edward T. Hall est prise comme inspiration liminaire. Celle-ci soutient qu'il existe une corrélation entre l'organisation de l'espace macro de la Société et celui micro des comportements individuels. Elle conduit Hall à une distinction entre « cultures du contact » et du « non – contact », les premières préférant une plus grande proximité physique entre les corps. Toutefois, la différenciation des aires culturelles de Hall (par exemple : « monde arabe »= « culture du contact ») n'apparaît plus pertinente à l'ère de la mondialisation urbaine.Une nouvelle théorie « micromacro », fondée sur 4 macro-orientations susceptibles d'avoir une influence sur les comportements, est alors proposée : égalité entre citadins, individualisation, urbanité relative et régulation de l'urbanisme. Deux autres appréciations de l'existence d'une corrélation scalaire entre des niveaux de description des relations spatiales sont également testées. L'une, appelée « micromeso », s'inspire de la théorie des « sites comportementaux » de Roger Barker. Elle considère que les comportements proxémiques sont corrélés avec des unités intermédiaires définies par un lieu et une heure spécifiques telles que «le métro à l'heure de pointe». L'autre théorie,appelée « micro », affirme que toute forme de corrélation scalaire est une erreur écologique.Delhi, Los Angeles, Paris et Tokyo, qui répondent différemment aux macro-orientations de la théorie micromacro sont prises comme terrains d'étude. Les comportements à l'intérieur et à l'extérieur du métro de chacune de ces aires métropolitaines sont observés (théorie micromeso). Dans ces deux conditions, des niveaux similaires d'enjeu spatial sont étudiés (théorie micro). Les résultats amènent à conclure que les relations de circulation sont mieux décrites par ordre d'efficacité lorsqu'on les considère cumulativement comme micro > micromeso >micromacro. Je défends alors la thèse selon laquelle les sociétés devraient débattre des améliorations des microconditions des relations de circulation plutôt que de se concentrer sur les explications micromacro et micromeso des dysfonctionnements de celles-ci, qui peuvent par exemple être identifiées dans la mise en compétition des individus autour du thème de la civilité.
Fichier principal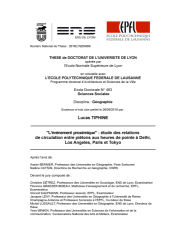 TIPHINE_Lucas_2018LYSEN009_These.pdf (150.8 Mo)
Télécharger le fichier
Origin : Files produced by the author(s)